How Peach helps you master first-party collections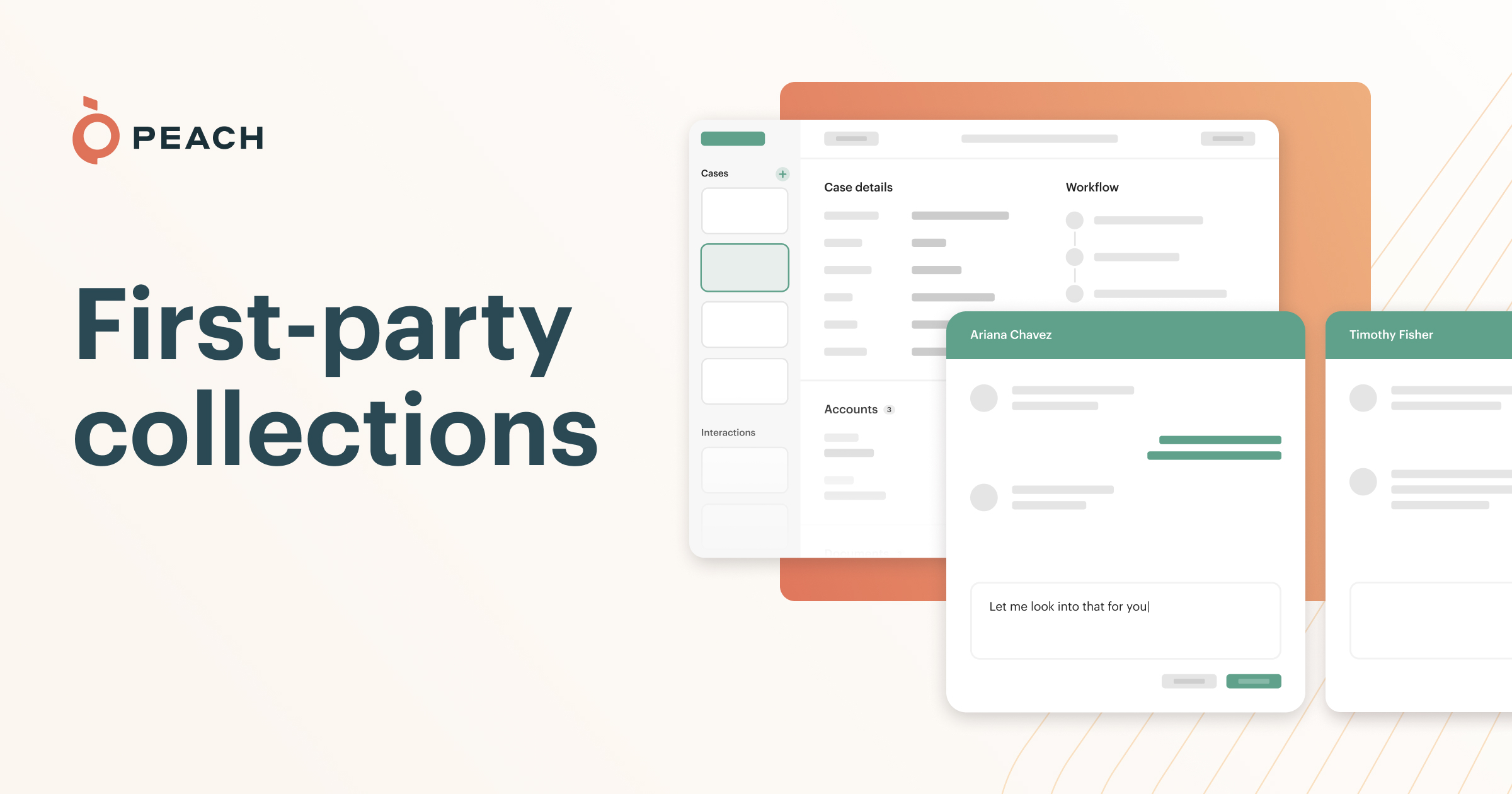 First-party collections capabilities are a crucial component of any lender's toolkit—especially in a market downturn. They enable lenders to retain 100% of what they collect, and they empower lenders to control the tone of customer correspondence, giving them a chance to preserve borrower relationships.
To be effective in the context of ever-improving customer experiences, collections strategies must be tailored to the needs of the borrower. That's why we've created a borrower portal that maximizes borrowers' ability to self-service. It's also why we created the first lending platform with native first-party collections tech built on top of an enterprise-grade loan management system. This means that when borrower self-service isn't enough, agents are empowered to truly help customers through automation, intelligence and powerful loan modification tools.
Here are three ways our collections capabilities can help you master first-party collections and achieve better outcomes from your delinquent accounts. 
1. Repayment engine
Our proprietary, lending-specific CRM is configurable on a roles and permissions basis, so it can accommodate both in-house agents and third-party BPO access. Here's an overview of its capabilities.
Loan modifications
With Peach, your agents get access to a full set of loan modification tools, enabling them to meet customers halfway with flexible payment options. Agents can manage payments and hardship and modify receivables—for example, waiving fees, issuing credits, deferring due dates, changing or extending terms, creating payment plans, reversing payments, backdating payments, and more. We support unique products and policies by geography.
Cases and workflows
We provide out-of-the-box cases and workflows for collections-related servicing scenarios like bankruptcies and disputes. We've also made it easy to create custom cases and workflows so you can design them around your own needs.
Communications
We provide pre-integrated communications tools for phone, email, SMS, two-way texting, chat and physical letters—ready to use in automated or manual fashion. We give you out-of-the-box templates for white-label emails, SMS and letters, and you can add your own templates, too. 
You can also set automated, no-touch rules to help prevent accounts from going to collections in the first place. Automatically send custom communications or leverage our templated reminders to create an account, enable autopay, make an upcoming payment and more. You can also configure rules for recovering debts, leveraging templates on the cadence and via the medium of your choosing. 
Compliance monitoring
With Compliance Guard™, we've coded the federal and state rules governing collections communications, including FDCPA, TCPA, UDAAP, SCRA, the US Bankruptcy Code and applicable state analogs. Every outbound collections communication is run through and approved by the rules engine, and our system automatically blocks non-compliant communication attempts.
Reporting and analytics
We provide access to both a replica of your production database as well as a pre-integrated SQL-based analytics tool. You can query all of the data and develop custom reporting as needed. Real-time access to your data is always available through our API.
Borrower self-service
Though not technically part of our repayment engine, our white-label, digital-native borrower portal helps maximize the impact of borrower self-service—and minimize the need for agent involvement. From any device, borrowers can easily check their balance, make payments, set up and customize autopay, modify their payment plan, access statements, update account information and more.
2. Automatically created collections cases
No matter how optimal your borrower self-service is, some accounts will go to collections. That's where automatically created collections cases come in. With Peach, you can leverage your own operational insights to create sophisticated collections strategies that give you the best chance of collecting from each customer. Start by deciding when you want manual intervention to begin, which teams you want tasks assigned to, and how and when you want them alerted. Based on these rules, Peach will automatically create and distribute tasks among your available agents. Agents can then leverage the robust loan modification tools outlined above, and can set follow-ups such as scheduled outbound calls, manual email and SMS sends, and reminders to follow up.
Each of your teams can log in to Peach's lending-specific CRM, where our system will match each team or agent to the unique actions they need to perform. For instance, your fraud team can be matched exclusively to dispute cases, while your legal team receives legal action cases. Meanwhile, the rest of your servicing team can continue performing their field work.
3. Automated collections campaigns
Recognizing that a mixture of contact methods is the most effective approach to collections, and that collections agents typically spend much of their time on repetitive tasks, we're developing a new tool that will enable you to run automated and highly configurable collections campaigns. Available later this year, the tool will allow you to define which populations of borrowers you'd like to target, and then create rules as to when and how frequently you reach out—whether that's through a phone autodialer or via email, text or direct mail—or a combination.
For outbound phone calling, Peach can help you match limited call center resources with positive answers to phone calls. After defining the borrowers you'd like to target—which you can update on an ongoing basis—Peach will export the requisite customer information to the dialer system of your choosing. As calls are made, the results will sync back into your existing collections cases in the Peach system, giving you a full picture of the attempts made on each borrower. You'll get a full data analytics view, and results will also be visible within your agent tooling.
–
Our first-party collections tools are designed to help you approach the efficiency of a third-party collections agency while retaining 100% of what you collect. These collections tools are included standard as part of Peach's servicing suite, alongside our Adaptive Core™ and Compliance Guard™.
To learn more about our first-party collections capabilities, contact us or send us an email at info@peachfinance.com.