Peach announces investment in first-party collections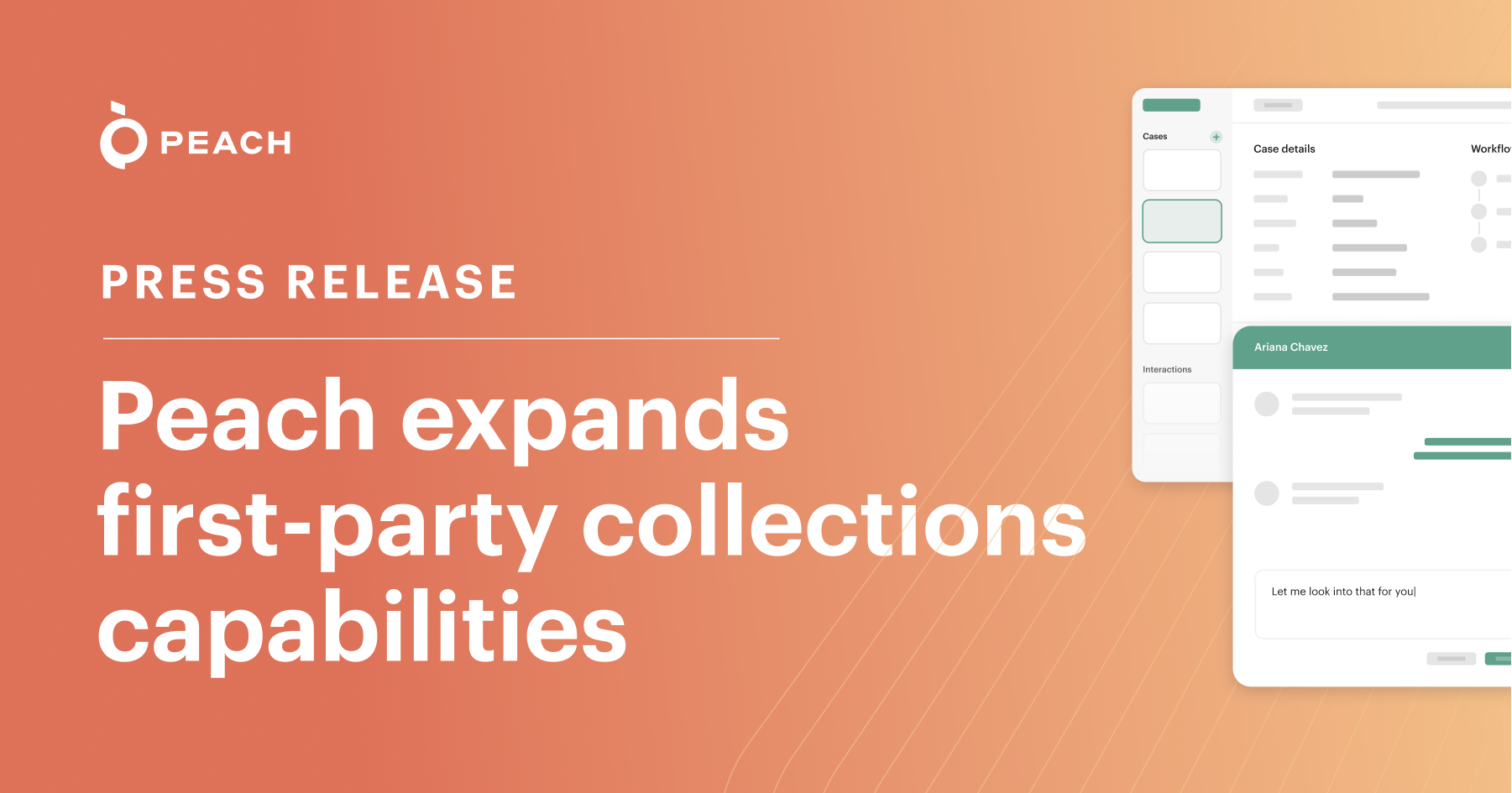 Read the full press release on Business Wire.
OAKLAND, Calif.--(BUSINESS WIRE)--Peach Finance, the leading modern loan management and servicing technology platform, today announced a major additional investment in its first-party collections capabilities. While Peach's existing capabilities were designed to match those of external collections systems, Peach is uniquely positioned to be able to exceed those capabilities as the only API-first loan management provider with first-party collections built in.
Lenders' loan management and collections systems are very often decoupled—typically because end-to-end functionality is not available on a single platform. But this undermines lenders' ability to collect effectively, since collections systems need access to as much borrower data as possible to deploy sophisticated and adaptive collections models and strategies. In addition, decoupled systems can make accurate credit bureau reporting more challenging due to delays in communication between systems, while differing lines of sight into borrower communications between lender and servicer can introduce compliance risk.
Peach's tight integration between its loan management and collections systems enables it to realize functionality, efficiencies and compliance benefits far beyond those of disparate systems. Lenders will be able to take advantage of automated collections campaigns, robust loan modification tools, temporary payment plans, promise-to-pay analytics, automatically created collections cases, pre-integrated communications tools and templates, cases and workflows, Compliance Guard™ monitoring, and more.
"Peach is committed to continual innovation as a market leader in modern loan servicing technology," said Russell Braden, VP of Product at Peach. "That's why we aren't satisfied with matching the functionality of external servicing platforms—we are determined to exceed it. In addition to all the collections tools we provide, we will also enable lenders to leverage nuanced data points like historical on-time and late payments, communications delivery and open statistics, app activity, promise-to-pay success rates, and more to fine-tune collections campaigns and optimize performance."
"Our clients already benefit greatly from the first-party collections tools native to our platform," continued Braden, "and we're looking forward to unlocking even more value for them in the months to come."
Earlier this year, Peach announced the launch of its Self-Service Portfolio Migration™ capability. A first of its kind in the lending industry, the capability streamlines the migration process and gives lenders the ability to manage migrations themselves, reducing the time, effort, risk and cost associated with migrating their existing lending portfolio. The tool is suitable for both installment loans and lines of credit, and is offered at no cost to lenders migrating their portfolio onto Peach's platform.
Peach also recently announced the beginning of its international expansion with a launch in Canada.
About Peach
Peach is a cloud-native lending technology platform that helps fintechs and traditional financial institutions quickly launch and confidently scale lending programs. Peach is the only lending platform built on an Adaptive Core™, a new paradigm in loan management offering complete configurability and support for virtually any asset class. For lenders with existing portfolios, Peach provides the industry's first Self-Service Portfolio Migration™ capability. The company's fully integrated suite of API-first products includes a loan management system with 200+ configuration variables; a suite of proprietary servicing tools, including a lending-specific CRM, borrower portal, agent portal, payment processing, communications, reporting and first-party collections tools; and Compliance Guard™, a proprietary compliance monitoring system. Peach was built by leaders from top fintechs like Affirm, Avant and Prosper, who set out to create the most configurable, robust, compliance-forward and future-proof lending platform in the market. Peach's mission is to improve lives by giving every lender the power to innovate. Learn more at peachfinance.com.
Peach media contact
Crayton Montei