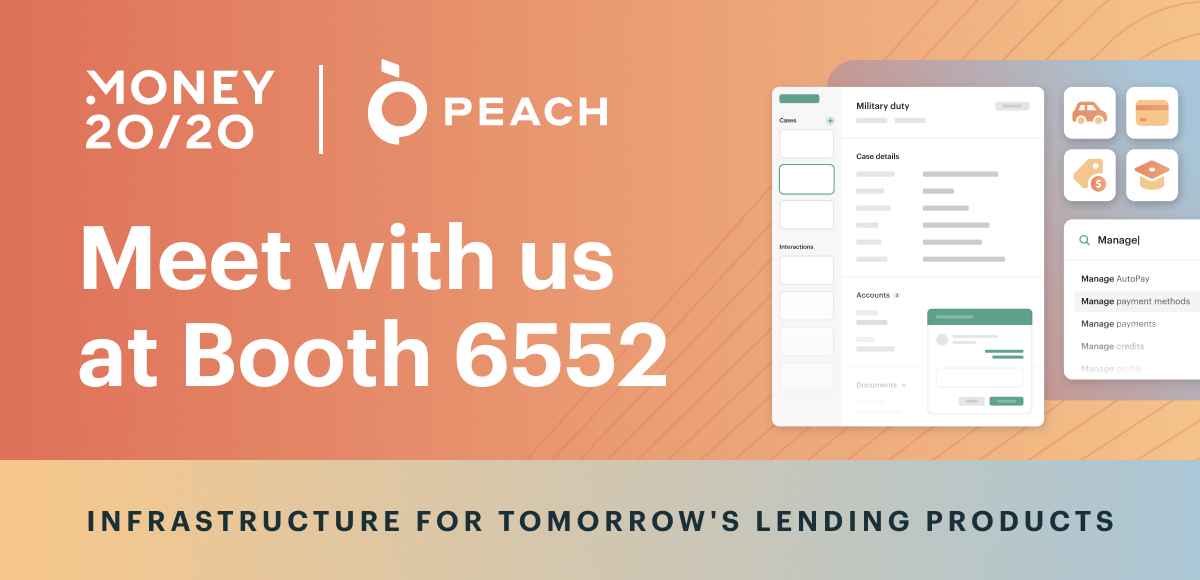 In just 10 days, the Peach team will be heading to Las Vegas for Money20/20. The conference is one of the largest in fintech, bringing together many of the foremost thinkers in the industry. We're proud not only to attend but also to sponsor the event.
If you're attending, stop by Booth 6552—or schedule a time to meet with us. We'd love to share some of the most recent advancements we've made in powering innovative lending programs.
As a leading modern loan management and servicing software platform, Peach provides API-first and cloud-native solutions for lenders looking for flexible lending tech. We enable lenders to quickly launch lending programs in virtually any asset class, and we provide more than 200 product configuration variables to give lenders maximum flexibility and scalability.
Our fully configurable lending platform is designed to help you stay nimble in a rapidly evolving market. It's also designed to help you stay compliant in your servicing efforts. Our Compliance Guard™ module monitors borrower statuses and outbound servicing communications to ensure compliance with regulations like the FDCPA, SCRA, TCPA, UDAP/UDAAP, U.S. Bankruptcy Code and Regulation F.
At Peach, we've developed a few other novel capabilities, including Loan Replay™—an innovative way for you to easily make retroactive changes to the ledger. And for lenders looking to modernize existing lending portfolios, we've developed the industry-first Self-Service Portfolio Migration™. We've streamlined the migration process to make it as painless as possible, ensuring data consistency and a seamless transition.
If you'll be at the show, we're excited to meet with you, understand your challenges, and explore how our solutions can help. We'll see you in Vegas.