Peach's Noah Trugman joins Fintech Finance News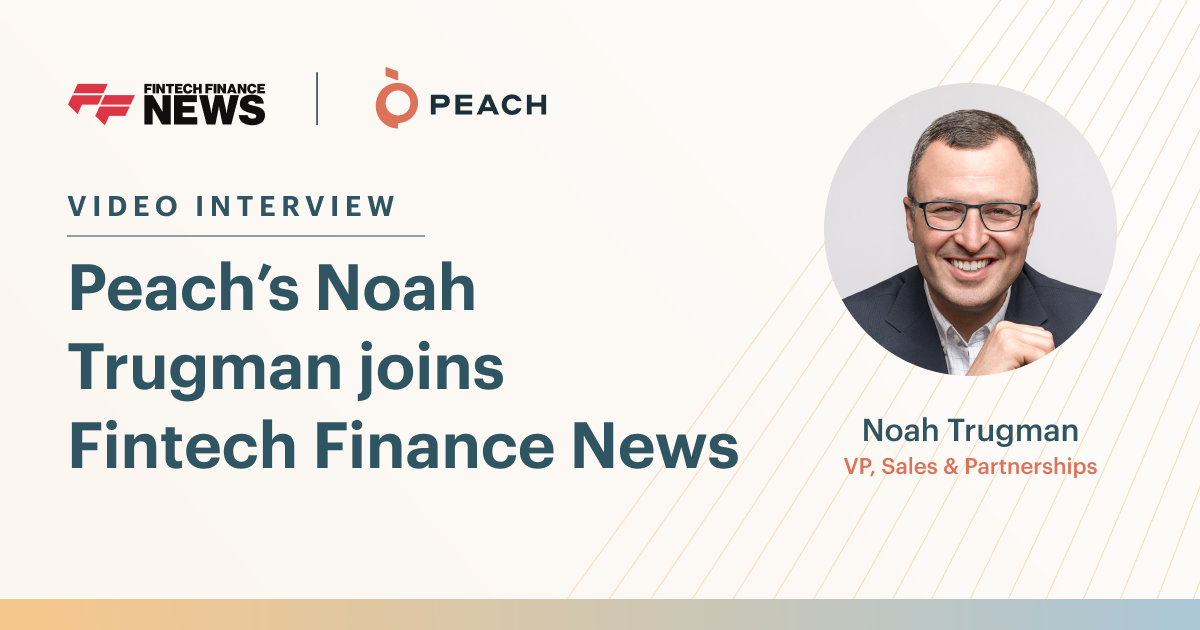 Peach's VP of Sales & Partnerships, Noah, Trugman, joined Fintech Finance News to discuss current market dynamics, the evolution of the lending sector, and the opportunities for innovation in loan servicing.
Transcript
Question: Can you please kick it off by introducing yourself and your company?
Answer: First of all, it's great to be here. My name is Noah Trugman—I'm VP of Sales & Partnerships at Peach Finance. We're a venture-backed technology company based in Oakland, California, and we've been around about four years.
Question: Can you expand a little bit on where Peach fits within the fintech space?
Answer: Sure. Peach is a software company and we operate within lending. We're an all-in-one, post-origination loan management and servicing platform. So what we do is we help our lender customers who want to launch new, innovative lending products. We handle all the post-origination management and servicing for those products.
Question: What does the lending sector look like today, and how has it evolved? What are the trends and what role is technology playing?
Answer: It's a great question. Fundamentally, we see tons of innovation coming from the fintech sector, and we see banks, with a little bit more of a legacy footprint and legacy technology racing to catch up with the innovative upstarts who are bringing new products to market and providing digital-native products and services. We are helping both sides of the market with very flexible, scalable servicing technology.
Lending is very complex. I wouldn't say I'm an expert on every facet of lending innovation—there's a lot happening on the origination and underwriting side, for example. But given that we're a core system and we help our customers think through their fundamental product constructs, we see a lot of innovation happening.
Number one, over the past several years we have seen the rise of installment point-of-sale products that you may know as buy now, pay later (BNPL). We also see innovation happening with revolving credit in the credit card space. And post-pandemic, there has been tons of innovation in business lending, kind of out of necessity because so many business lenders were impacted during the COVID recession. Now, there's a real rebirth in business lending happening.
Question: Do you feel that businesses in general are really embracing innovation within this field?
Answer: Peach was built from the ground up as a very flexible, asset class-agnostic servicing platform. So we play in all of these different spaces outside of traditional mortgage. Our customers use us for everything from personal unsecured installment lending to business credit cards, auto lending, invoice financing...you name it. The way you go about running your business or your personal finances—you have so many more choices today than you did even five years ago. Mobile-first, digital-first financial services that are embedded in the products and services you use every day. So that access is a result of the innovation that's been happening in the lending space.
This is an interesting, dynamic time, on the heels of a lot of changes in the market. But behind the scenes, people are still heads down, focused on innovation and evolving technology to remain competitive in the market. Financial institutions, as part of their long-term strategy to evolve their technology and continue to innovate and adapt their products, haven't been distracted at all by our dynamic market.
Question: What's next for your company?
Answer: We've really spent the past four years building a core lending platform and an end-to-end servicing technology platform from the ground up that is truly asset class-agnostic. Our customers are bringing some of the most innovative installment and revolving credit programs to market—both unsecured and asset-based lending products. Our customers are finding niches in the market and ways to innovate and find their foothold. We continue to lead with our best-in-class, API-first technology platform and are really excited to partner with some of the most innovative, forward-thinking players in the market. We have big plans for our platform, but more than anything we're excited to partner with our customers as they scale the innovative products that are making their borrowers' lives better.
Question: In the financial services industry, innovation isn't always easy. How are you overcoming this challenge?
Answer: The first aspect I would touch on is that in lending, "loan servicing" is often misunderstood. What we're talking about is both the lending system of record, which is often part of the core banking platform but is in many cases supported by a third-party loan management system, as well as all of the surrounding technology that operationalizes servicing. That can mean money movement, customer communications, data and reporting, compliance, borrower portal, CRM and agent tooling, and more.
One of the challenges is understanding how all this technology needs to work together. Another is to optimize all these pieces not only for borrowers and agents, but also for regulators, investors and others. So fundamentally you are dealing with very complex software that is used in various complex scenarios by a variety of end users. We have worked hard to consolidate all this functionality so that it's easy for our customers to innovate and scale their lending programs in terms of both size and geography.
This transcript has been edited for clarity.