Peach to Deliver AI-Driven Lending Innovations with Google Cloud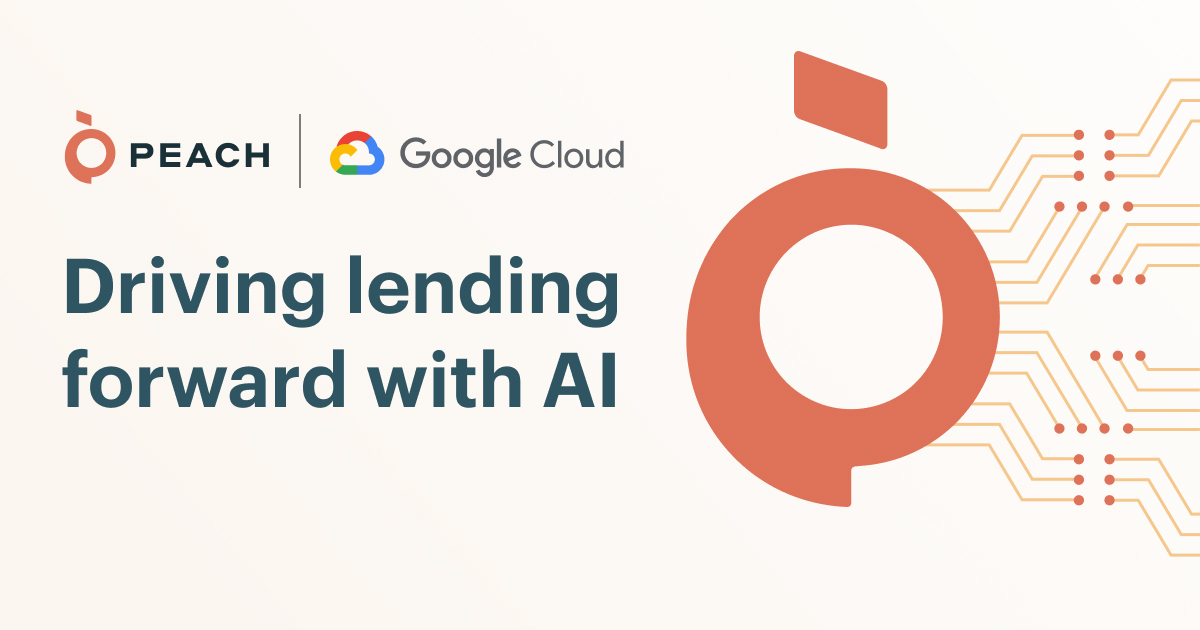 Peach to Deliver AI-Driven Lending Innovations with Google Cloud
Peach Finance, the leading modern loan management and servicing technology platform, today announced it is working with Google Cloud to build and deliver AI-driven servicing technology innovations. Peach will apply Google Cloud's advanced generative AI technology to Peach's loan management, loan servicing and compliance monitoring capabilities, helping lenders more effectively and efficiently manage and service their lending portfolios.
Peach's lending technology platform provides lenders with a loan management system, payment processing, borrower portal, CRM, agent portal, reporting, omnichannel communications and compliance monitoring, as well as a Self-Service Portfolio Migration™ capability. 
Built on Google Cloud, Peach will develop a range of proprietary AI-powered solutions across servicing technology and customer experience—helping lenders drive operational efficiency and stay ahead of the curve. Examples of AI-powered solutions include call transcription, call coaching, smart reply, suggested responses, AI-driven chatbots, case summarization, agent self-service training and help, and additional solutions that will be announced at a later time. 
Peach CTO Eran Sandler spoke about the partnership and the potential of AI in lending. "Peach has leveraged Google Cloud from day one, benefiting from Google Cloud's experience running safe, performant and secure cloud infrastructure. With AI, Google Cloud has applied the same security and safety principles, allowing Peach to securely and safely use AI to enhance our lenders' capabilities. Lender data will never be used to train Google Cloud AI models, and cannot be accessed by Google Cloud."
Sandler continued: "At Peach, our promise to lenders is to continually deliver technology that enables them to stay ahead of the curve. That's why our platform is API-first, fully configurable, and designed to support virtually any asset class—and it's why delivering the next generation of AI-powered lending technology enhancements is simply the logical next step to enable our clients to thrive in an increasingly AI-driven world. 
"AI is accelerating transformation across a broad range of industries, from healthcare to finance," said Zac Maufe, Head of Regulated Industries, Google Cloud. "Peach has already seen the benefits of using Google Cloud's secure and scalable cloud technology to build its platform, and by using our advanced AI technology, Peach can drive operational efficiency for its customers with more effective and efficient customer service experiences that are critical to the loan servicing process." 
About Peach Finance
Peach Finance is an API-first lending technology platform powering innovative lending programs for many of today's leading lenders, including Square, Mission Lane and Remitly. Peach is the only lending platform built on an Adaptive Core™, a new paradigm in loan management helping fintechs and traditional financial institutions quickly launch and confidently scale configurable lending programs. Peach is also the innovator behind the industry's only Self-Service Portfolio Migration™ capability. 
The company's fully integrated suite of cloud-native products includes a loan management system that supports virtually any non-mortgage asset class and features 200+ configuration variables; a suite of proprietary servicing tools, including a lending-specific CRM, borrower portal, agent portal, payment processing, communications, reporting and first-party collections tools; and Compliance Guard™, a proprietary compliance monitoring system. Peach's mission is to improve lives by giving every lender the power to innovate. Learn more at peachfinance.com.
Peach media contact
Crayton Montei