Peach simplifies portfolio migrations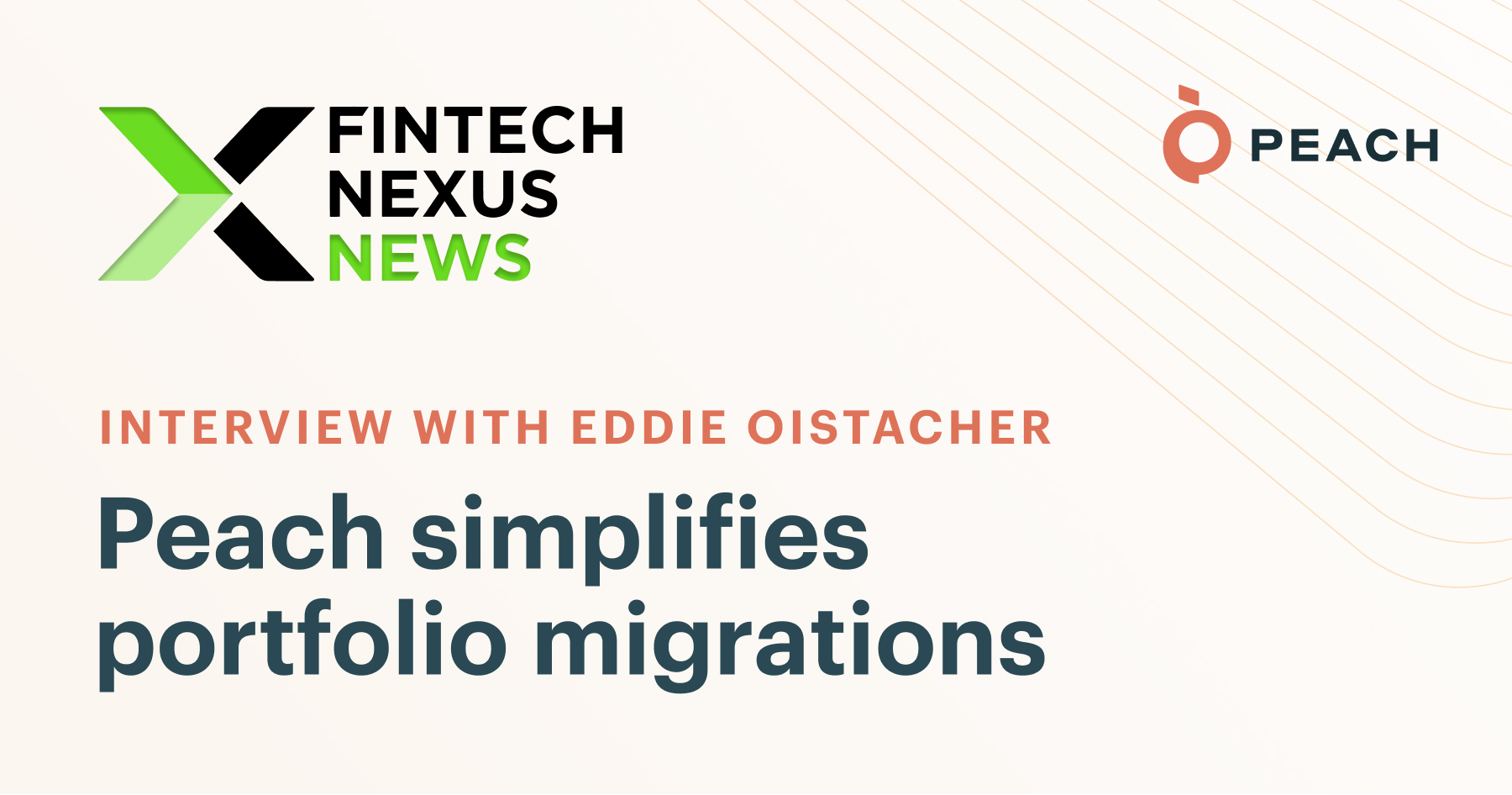 Tony Zerucha of Fintech Nexus News recently sat down with Peach CEO Eddie Oistacher to discuss Peach's industry-first Self-Service Portfolio Migration™ capability, which we previewed last September.
Why is it such a game-changer? One reason is that Peach recreates full loan histories from a small subset of data, which means far less data to gather and migrate. Another reason is that lenders use the same API endpoints for migration that they'll use to board new loans to Peach, enabling them to self-migrate with very little additional training. Plus, there's no migration fee.
Check out the article to read more about how we simplify migrations, how we help lenders balance self-service with agent assistance, and what we're excited about in the coming year.
An excerpt from the article
...Ultimately, lenders want borrowers to be self-curing, Oistacher said. Increased automation reduces pain points, leaving issues that actually need the human touch. Those automations can be programmed by the lender to include overdue reminders at prescribed points. Message tone can be changed throughout.
Oistacher said this is one area where Peach Finance took a different approach than many other servicing providers. Instead of assuming that agents will need to get involved, they provide more self-service options for customers (all with lender approval). Customers can lower monthly payment amounts, split payments, and customize their autopay schedule depending on lender preference.
When first-party collections are needed, the system allows borrowers with specific issues to be assigned to the best-equipped agents to handle them. Those agents learn more quickly because all the tools they need are in one system instead of being split into multiple systems and providers.
Additional utility is provided by pre-integrated communications tools that can be deployed manually or via automation. Options are available for phone, email, SMS, two-way texting, chat, and physical letters. Letter templates can be provided, and the system accepts lender templates.
Peach addresses compliance monitoring through Compliance Guard™, which includes coded federal and state rules governing collections communications, including FDCPA, TCPA, UDAAP, SCRA, the US Bankruptcy Code, and applicable state analogs. Outbound collections communications are run through and approved by a rules engine. The system automatically blocks non-compliant communication attempts...(continue to Fintech Nexus News)
--
See also: Peach announces release of Self-Service Portfolio Migration capability.